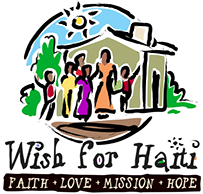 we are all one human family
Tracy Metzler: President and Co-Founder of Wish For Haiti lives in Steamboat Springs, CO with her husband, Nick, and four children. She and Nick are passionate about the children of Haiti, having adopted one of their children from Haiti in 2009. They remain dedicated to serving the children they left behind. Tracy has a background in teaching and currently works part time as a child/school psychologist.
Danielle Skov: is a reading specialist at Soda Creek Elementary School in Steamboat Springs, CO. She is wife to Mike Skov and mother to Lark, Mac and Posy Skov. It is her daughter, Posy, who first got her involved in Wish of Haiti when her daughter had a bake sale to raise money to buy goats for the orphanage. Danielle is committed to improving the lives of children in Steamboat and across the world.
Brooke Metzler: is currently a student at the University of San Diego. She first visited Haiti when she was eleven years old which began a fervent desire to return to Haiti every chance she gets. She has remained involved in working with the children there and plans to make a life-long commitment to the families she has come to love.
Teresa Cardenas: has worked as a court stenographer in the Denver legal community for over 25 years. She has spent time volunteering with women in prison and as a certified spiritual counselor with the United Center for Spiritual Living. Teresa has a heart for volunteer work and is eager to contribute to Wish For Haiti's projects.
Jill Jepson: works in Denver, CO with Arrowpoint Financial Consulting. She has been a dedicated board member for Wish For Haiti, serving as treasurer to help with the financials. She has travelled to Haiti and knows first-hand of the beauty and challenges of the country.
Wish For Haiti Board Members
©2014-2016 Wish for Haiti
WISH FOR HAITI is a 501c3 non-profit corporation registered in the state of Colorado.
Registration number 20081497002, tax ID 26-3371674