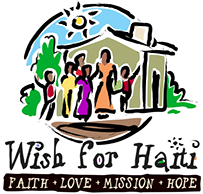 we are all one human family
PLEASE DONATE!
Your donation goes directly to help the children of Haiti and is tax deductible. Visit the "contact us" page to get information on where to mail donations, or donate via PayPal by clicking the button above.
There are several ways in which one might get involved with our work in Haiti...
• Sponsor an individual Child
$30 per month covers the expenses of feeding one of our children for a month. If you would like to sponsor one of our children, please let us know! You may either choose one of the children listed below or ask us to assign a child for you.
See the Wish For Haiti Children who need donations...
• $20 per month covers the expense of school for one of our children each month. You might choose to sponsor the educational expenses of one of the children.
• Make a one-time donation: to be used for general operating expenses, materials to plant gardens, tress, goats, chickens, etc.
• Share your talents: Please let us know if you have a specific skill or talent you would like to share with the children. We welcome guests on our trips to Haiti and appreciate collaborating with others in a variety of ways!
©2014-2016 Wish for Haiti
WISH FOR HAITI is a 501c3 non-profit corporation registered in the state of Colorado.
Registration number 20081497002, tax ID 26-3371674